The story behind every piece of jewelry
All Amigos bracelets have a story to tell. Bracelets are no longer just a fashion statement. They have stories about friendship, love, dedication, connection, support, memories, hope or they carry a message. We have captured them all in our unique handmade bracelets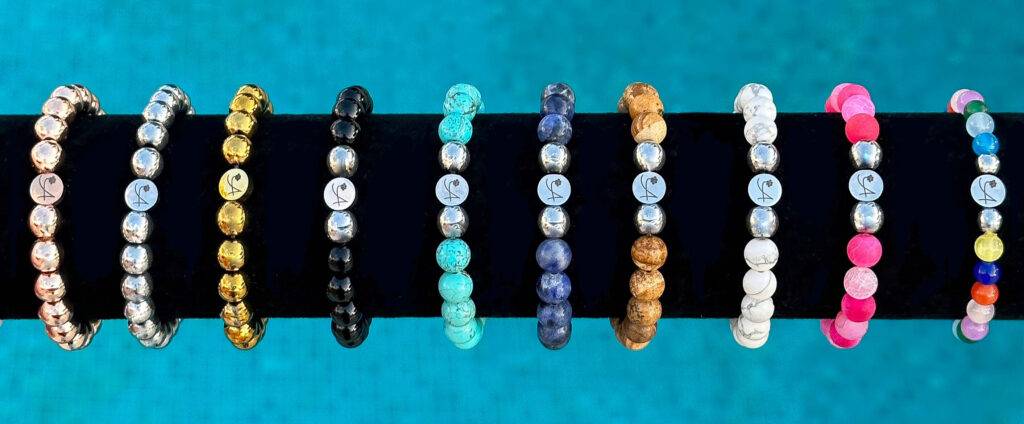 Wild Desert
Amigos Jewelry started with little toy poodle GinGer. The desert jasper stone stands for new life, positive changes, beginnings, renewal, hope and happiness. It was the perfect gemstone for a new life and Claudia's new friend puppy GinGer.
This was the first ever Amigos bracelet made. The beautiful different shades of the desert jasper stone are brown, red and tan, representing the colours of the curly and wavy coat of toy poodle GinGer.

Our signature bracelet stands for new beginnings.
Pink Candy
The pink agate stone reminds Claudia of her childhood. The colour pink reminds her of the cotton candy at the local fair which her dad bought for her after being in a car accident.
Luckily nobody got injured. The pink agate stone can eliminate negativity and it will protect you. But the pink agate also promotes love, especially between a parent and a child.

This bracelet is the perfect one to express love for your child or your parent.
Milk Shake
This holds the story about remembering her grandfather. The white howlite gemstone is a stone known to give patience and perspective. Her grandfather had those traits.
He bought Claudia a very old scooter and worked on it for months to make it look brand new. He chose the colour white because of his love for vanilla ice cream and milkshakes.

This bracelet stands for pure trust and dedication.
Ocean Wave
This one is about emotions and feelings. Sometimes it's hard to deal with the ups and downs of life. The tidal force on earth causes both high tides and low tides. These natural cycles occur on a regularly basis and are connected to the moon. The sodalite gemstone symbolises different levels of calmness and balance. And has a deep blue colour representing the depth of the water.
Many people love to go to the ocean and watch the waves as they think about life. Maybe because it brings order and calmness to the mind.

This bracelet is made to ride the waves of life.
Turquoise Sky
A true love story.
When in love you see the sky not only just dull blue but you see the brightness of blue colours.
Claudia says: "When you fall in love with your true love, the sky will open up and the most beautiful intense and peaceful blue will appear, turning the sky turquoise." The turquoise howlite gemstone is a connection between heaven and earth and helps you connect to the spiritual world. For us seeing turquoise skies means you have found true love, peace, tranquility, calmness and balance.

A timeless bracelet for enduring love.
Jet Black
The name of the onyx bracelet is a combination of things. Finding your place on earth and finding your true self. Claudia has great memories about her time as a flight attendant on commercial airlines and private jets.
The black onyx gemstone stands for a driving motivation and helps you to continuously push yourself forward in life. And that is what her "jet black" experience did for her. Keeping focussed and dedicated.

A classic bracelet that stands for focus.
Playground
Our kids bracelet is very colourful which makes it fun to wear. Colours are very important in a child's development. That is why we picked jade stones in different bright colours.
Playing in the playground is an activity children engage in to have fun. It also gives a chance to move around outside, interact and learn new skills.

This colourful bracelet opens the mind, gives energy and good health which is perfect for our (grand) kids.
The Jazz
A collection of 3 bracelets which are there to jazz up your daily outfit or to enhance your party outfit.
Friends and friendships are the way your life can be taken to a different level. Friends may show you new ways to look at life. They can help start injecting new activities and interests, this way you can feel and see your life in a different way. The hematite stone is plated with silver, gold or rose gold. This will protect and ground you, giving you more courage and willpower. Claudia's favourite gift bracelet for her friends. The perfect way to positively jazz up your life and your friends' lives.

This protective bracelet can be your best friend in need!
Amigos Jewelry is for you & your loved ones.
Now you can start to make your own story.
"Let's make some memories so we'll have stories to tell. The magic starts with our new collection of bracelets!" 
Lots of love
The Amigos Family